There is no doubt that golf is the most popular sport among the presidents of The World's most powerful country, The USA (United States of America). Most presidents have hit a golf ball at the White House, the official residence of the United States president, during their stay. Every American agrees that there are more than 100 years of History of golfing presidents, and still, this tradition continues among them, even the former President, Donald Trump. In this article, we compile golfing data of Trump golf vs. Obama.
There are many controversies about who is the first golfing President. Some agreed that William Howard Taft was the beginner. Still, others suspected that the 26h President Theodore Roosevelt bring the tradition of golf. However, at that time, this sport was considered only for the wealthy. In this article, you will get –
The snippets of 100+ years of American golfing presidents
Golf statistics of the last five presidents
Golfing status of Donald Trump and Barak Obama
Barak Obama golfing vs. Donald Trump golfing
The golfing presidents over 100 years
NAME OF THE PRESIDENT

POSITION OF PRESIDENCY
DURATION
PROFESSION

HANDICAP & ACHIEVEMENT

Donald Trump

45th
2017- 2020
Real Estate Developer

Around 2.8

Barak Obama

44th
2009-2017
Politician. Lawyer, author, Professor

Around 13

George W. Bush

43th
2001-2009
Politician, Businessperson

Under 10

Bill Clinton

42th
1993-2001
Politician, Lawyer

Mulligans, Former member of Trump's golf courses

George H. W. Bush

41th
1989-1993
Politician, Businessman, Navy Pilot

Around 11, Honored at The World Golf Hall of Fame

Ronald Reagan

40th
1981-1989
Politician, Actor

Around the low 90s

James Carter

39th
1977-1981
Farmer

Non-golfing President

Gerald R. Ford

38th
1974-1977
Politician, Lawyer

In the 80s

Richard M. Nixon

37th
1969-1974
Politician, Lawyer

He tried to make shots in his backyard golf course but retired forever within a short time.

Lyndon B. Johnson

36th
1963-1969
Politician, Teacher

Played with many senators to secure the votes

John F. Kennedy

35th
1961-1963
Politician, Navy Officer

Like to enjoy instead of playing

Dwight D. Eisenhower

34th
1953-1961
Politician, Army General

Handicap: 13-17
Golfed at Augusta 29 times at the President

Harry S. Truman

33th
1945-1953
Politician, Judge, Writer

Non-golfing President

Franklin D. Roosevelt

32th
1933-1945
Politician, Lawyer

Before getting the disease polio, he was an outstanding golfer

Herbert Hoover

31th
1929-1933
Politician, Businessman, Engineer

He departed from golfing due to his depression

Calvin Coolidge

30th
1923-1929
Politician, Lawyer

He played but was not a golf enthusiast

Warren G. Harding

29th
1921-1923
Politician, Businessman, Journalist

A golf enthusiast

Woodrow Wilson

28th
1913-1921
Politician, Professor

He played more than 1000 rounds during his presidency

William Howard Taft

27th
1909-1913
Judge, Lawyer

He loves golf but felt shy for his handicap-20 & shot below 90
Donald Trump golf swing
Although President Donald Trump is a business magnate, he is also closely related to golf. In 1999, he started acquiring and constructing golf courses. By this time, he owned 17 luxurious golf resorts, and from those courses, some golf courses Trump already select for PGA and LPGA events, including PGA Championship in 2022. According to USA Today's research, the membership fees of Trump's golf courses exceeded US$100,000.
As President, Trump made 11 golf trips within the first eight weeks in the office and visited his golf courses 92 times between January 2017 and January 2018. On average, Trump spends more or less 4 to 6 hours on the golf course. And his present golf outings are about 273. He also pays more than $105 million and is the highest-cost taxpayer as a golfing president in the USA. From his college life at The University of Pennsylvania, he became passionate about golf. And during the campaign for the presidency, he also attended the Ivy League College. In 2014, he discussed his golfing in detail when he interviewed with the Golf Digest. He also told how he increased his skill from the local course hustlers and the Trump International Golf Club.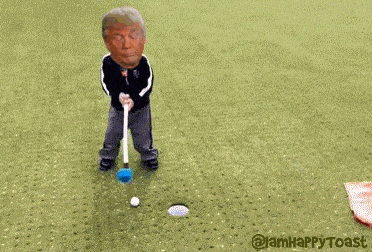 As a golfer, Trump is an avid golfer with an aggressive, fast, and trendy record of American presidential golfing. However, he seems to be slightly flawed but looks very confident. Besides, the President solves his misalignment with a mid-swing and hits the golf ball straight to the target. Moreover, he feels comfortable in a long game and can hit 230 yards off the tee steadily. He has a slight weakness in a short distance with putting, chipping, and bunker shots. Except for his courses, Trump goes to Augusta National, Oakmont, Cypress point, Palm Beach, and Pebble Beach for golf outings. According to the Pool Report, Trump played few rounds with the Japanese Prime Minister, Shinzo Abe, at the Trump International Golf Club.
Trump's golfing Buddies
There is no doubt that President Trump is passionate about playing golf. Still, he continues his golfing trips during the COVID-19 pandemic throughout the USA, even the whole world. Fox News flashed this information, and Trump said that he went to keep his form of exercise and left the course very fast.
Trump partners up with many of his friends in the course, including politicians, musicians, former and present professional golfers, athletes, celebrities, and non-professional golfers. He partners up with many of his friends in the course, including politicians, musicians, former and present professional golfers, athletes, celebrities, and non-professional golfers.
Politicians
Japanese Prime Minister – Shinzo Abe
Trump's chief counsel and the former mayor of New York City – Rudy Giuliana
Republican senators of South Carolina, Kentucky, Georgia, and Tennessee – Lindsey Graham, Rand Paul, David Perdue, and Bod Corker.
Pro golfers
Rory Mcllroy
Jack Nicklaus
Hideki Matsuyama
Ernie Els
Dustin Johnson
Allan Kournikova
Dana Quigley
Bryson DeChambeau
Brad Faxon
Davide Frost
Celebrities
Host of Fox News – Bret Baier and Sean Hannity
Musician
Pro athletes
Kirk Cousins
Peyton Manning
Paul O'Neill
Non-professional golfers
Coast Guard Commanding Officer – Gene Gibson
White House Chief of Staff – Mick Mulvaney
American Businessman – John Arrigo and Mike Fagio
Obama golf swing
As the 44th President of The USA, Barak Obama spent lots of time in the golf courses, especially in his second presidential term. According to CBS News, during his presidency, Obama played 333 rounds of golf, and his last shot was on December 31 while spending his final vacation as The President in Hawaii. The White House Correspondent of that period, Mark Knoller, tweeted that golfing in Hawaii was his 46th round of golf of his final year of presidency. On average, Obama played 42 golf rounds in a year, but he never made a caddie with the highest-round played American Presidents Woodrow Wilson or Dwight Eisenhower. Even after the inauguration of Donald Trump as President, Obama made a journey to West Palm Beach during the spring holiday for golfing. And, he made six trips on this same golf course as President. He also visited The Trump National Golf Club and completed a round of golf.
As a politician golfer, Obama took place as a 13-handicapper in the top 150 golfing politicians, made by the Golf Digest. Among eight left-handed presidents of the USA, Obama was the first president who played golf. Like other golfers, he also put the reputed golf product manufacturers like Nike, Titleist, Nike Sumo, Cobra, and Callaway in his golf stand bags. The more exciting thing is that Obama has a passion for golf but started golfing in the mid-30s as a relaxing alternative to basketball.
He hits s straight drive and has a good chipper, but his bunker shots are so deficient. Obama's opponents claimed him as a trash-talker, but this former President never twisted the rules or inflated his scores, even as a most powerful President. As Obama mostly played on local military golf courses, he is less a taxpayer than his rivals.
Trump Golf vs. Obama
When comparing golfing between Obama and Trump comes in the front, Trump's statistics stay before Obama's scores. Trump played golf almost 2.6 times more than Obama in his two years 91 days as the President. And also one of the highest US taxpayers because Trump always goes to his golf courses or any other private course. On the other hand, Obama spent his golfing time mainly in the military golf courses. So he paid fewer taxes than Trump. However, Trump attacked Obama in his Presidential campaign about Barak Obama's golfing statistics and complained that he spent his time golfing instead of joining a major meeting about the NYC Ebola outbreak.
We make a comparison between Trump and Obama on how many times they played golf.
Considering their days in the office
| | | | |
| --- | --- | --- | --- |
| DAYS IN OFFICE | TRUMP'S GOLFING | OBAMA'S GOLFING | DIFFERENCE |
| 100 | 19 | 1 | 18 |
| 200 | 44 | 12 | 32 |
| 300 | 73 | 24 | 49 |
| 400 | 94 | 29 | 65 |
| 500 | 110 | 38 | 72 |
| 600 | 144 | 50 | 94 |
| 700 | 154 | 55 | 99 |
| 800 | 164 | 62 | 102 |
| 821 | 170 | 65 | 105 |
Considering the days of the week
| | | | | |
| --- | --- | --- | --- | --- |
| DAYS OF THE WEEK | TRUMP | % | OBAMA | % |
| Monday | 9 | 5% | 4 | 6% |
| Tuesday | 4 | 2% | 3 | 5% |
| Wednesday | 8 | 5% | 1 | 2% |
| Thursday | 6 | 4% | 4 | 6% |
| Friday | 18 | 11% | 5 | 8% |
| Saturday | 61 | 36% | 17 | 26% |
| Sunday | 64 | 38% | 31 | 48% |
| Total | 170 | – | 65 | – |
Trump vs. Obama on the golf course
Golf Statistics of 5 Most Golf-Playing American Presidents
| | | | | |
| --- | --- | --- | --- | --- |
| PRESIDENT | HANDICAP | ROUNDS | PER YEAR AVE. | GOLFED EVERY |
| Donald Trump | 2.8 (Self-Proclaimed) | 200 | 91 | 2.8 days |
| Barak Obama | 13 | 333 | 42 | 8.8 days |
| George W, Bush | 11-12 | 24 | 3 | 121.7 days |
| Woodrow Wilson | 25-30 | 1200 | 150 | 2.4 days |
| Dwight Eisenhower | 13-17 | 800 | 100 | 3.7 days |
Wrap Up
Golf is a prestigious game and also the relaxing sport of the wealthiest celebrities. And, as a president or Former President, both continue as they get times for golfing. So the golfing statistics of these two influential American leaders will change with the day. Although Donald Trump played more golf than former President Barak Obama, both achieve the American people's respect.